Land Titles

Registry offices can only provide you with copies of information that already exists on the Land Titles database.  To register any documentation or changes you must go through Land Titles in Calgary or Edmonton. You can find the necessary forms here.
To obtain a copy of your Certificate of Title (current or historical), document copies or plan copies through Cochrane Registries you must provide your legal land description. For more information please use the following link: Titles, Documents and Plans
Personal Property
At our office we can process both searches and registrations of various personal property items.
Searches
Cochrane Registries is able to pull many different searches from the Personal Property Registry.  Some of these include Individual Debtor Name Search, Business Debtor Name Search and Serial Number Search. For additional information regarding these searches and more please use the following link: Searches
Registrations
There are several options when it comes to registering items on the personal property registry including Writs of Enforcement, Garage Keepers liens and Security Agreements.  You will find more detailed information here.
Vital Statistics
Through Cochrane Registries you can request a copy of an Alberta birth, marriage or death certificate. We can also process Legal Name Change and Marriage License Applications. On select services you may request a rush service for an additional fee.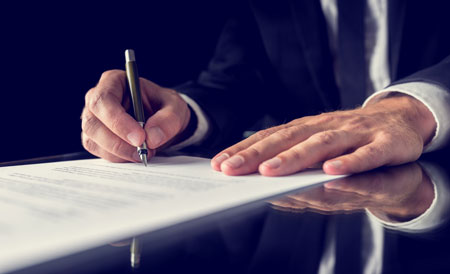 Commissioner of Oaths
At Cochrane Registries we do offer the services of a Commissioner of Oaths.  Please contact our office for availability or more information.
Alberta Health Services
At this time we are unable to provide these services to the public. Please click here for a list of registry locations that are able process these services. For more information please see Alberta Health Services.
Organ and Tissue Donation
To find out more information regarding the registry for Organ and Tissue Donation please visit the following link: Alberta Organ and Tissue Donation Registry
Boat Exam

Visit www.aceboater.com and use the coupon code "COCHRANE" to receive $5 off your Pleasure Craft Operator License exam.
Raffle License
You can obtain your Raffle License through Cochrane Registries for a small fee or you can go on-line and process your Raffle License yourself for free.  For more information please visit the Alberta Gaming and Liquor Commission website.