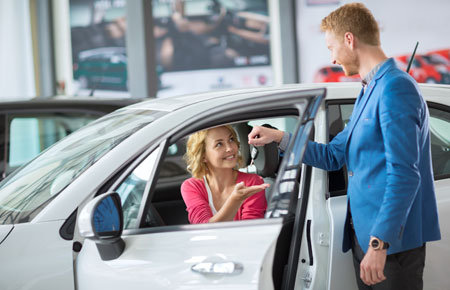 At Cochrane Registries, we can meet all of your registration requirements. We can process all classes of vehicle registrations, whether it is for personal or commercial use, including prorate and fleet registrations.
Residency Requirements for Vehicle Registrations
Find out about Alberta's residency requirements for registration.
Vehicle Registration Terms
Vehicle registration fees are prorated. Normally registrations are issued for a maximum term of 1 year and a minimum term of 3 months.  Passenger (personal use) vehicles can be registered for a maximum term of 2 years.
Please click the Alberta Registration Expiry Chart to find out when your licence plates will expire.
To find out more information about different classes of plates/registrations that you may require please click on the following link License Plate Classifications.
If you are unable to attend a registry office….
A representative can apply for a vehicle registration, registration renewal, plate transfer, plate exchange, or a cancellation on your behalf. The representative acting on your behalf must bring: your proof of ownership, your proof of valid Alberta insurance, their identification and a completed Authorization for Vehicle Services form, which must be signed by you.
Purchasing a Used Vehicle
When purchasing a used vehicle in the Province of Alberta you, the buyer, are responsible to check out the history of the vehicle to ensure that there are no liens or encumbrances, and that the vehicle has not been stolen. Through Cochrane Registries you can purchase a Vehicle Information Report  that will include the following information: vehicle status, registration history in the Province of Alberta, odometer reading (if available) and if there is a lien on the vehicle. If there is a lien on the vehicle you must also purchase a lien search to find more information.
To protect yourself further we also recommend that you purchase a CarProof and/or  CarFax  History Report.
Stolen Status
To check to see if the vehicle has been stolen you can check with the Canadian Police Information Centre (CPIC). You can also see if there has been any stolen vehicle reports filed with your insurance company.
Vehicles purchased outside of Alberta
If you purchased a vehicle outside of Alberta, but within Canada, you'll need to complete one of the following: an out-of-province vehicle inspection; a salvage vehicle inspection or a commercial vehicle inspection. The type of inspection depends on the status and the type of vehicle.
You will need to come into our office to get an Inspection Request form before you take your vehicle to the authorized inspection station. Please bring in your proof of ownership, Import form (if the vehicle is from outside of Canada) and identification.
Outside of Canada….
If your vehicle was purchased outside of Canada, you are required to get the correct inspection done, provide import documentation, proof of ownership and identification. For more information please see Registering an imported vehicle.
New Registration
To get the most up to date information on how to register your new vehicle for the first time please click on the following link First time motor vehicle registration. If you are under 18 years of age your parent or legal guardian must accompany you.
Transferring a Registration
If you have purchased a new vehicle and you wish to Transfer Registration from an existing vehicle onto your new vehicle, you must come into Cochrane Registries to have it processed.  If you are under 18 years of age your parent or legal guardian must accompany you.
Renewing Vehicle Registrations
Find out what's required to Renew your vehicle registration.
Lost or stolen license plates or year stickers
What to do to replace your Lost or Stolen plates or year sticker.
Canceling your Registration
In order to cancel registration and get a refund on your licence plates and registration you must come into Cochrane Registries to have it processed. You will be reimbursed for time remaining less $10.50 (including GST) cancellation fee. Any refund will be mailed directly to you.
Disability Parking Placards
Click here to find out more about Disabled Parking Placards or Plates for persons that qualify. Click here to get your Parking Placard Application for People with Disabilities form.
Veteran's Plates
To find out about how to obtain your veteran licence plate please click on the following information page. If you qualify, please fill out the Application for Veterans Licence Plates and submit it to the The Royal Canadian Legion for approval.  Once your application has been approved please bring the form into Cochrane Registries for processing.
Support Our Troops Plate
Honour our current and former members of the Canadian Armed Forces by purchasing a Support Our Troops licence plate.
Personalized License Plates
To find out more information on personalized license plates, please see the Personalized Plate Program information sheet.
Intransit Permits
An intransit permit is required if you are moving an unregistered vehicle within the Province of Alberta or across Canada.  The permits are not valid outside of Canada.
Vehicle Seizures
If you are stopped by the police and your driver's license is under suspension the motor vehicle that you are operating will be seized for 30 days. To find out more information regarding vehicle seizures please visit the Transportation Safety Board.